Have a Secure Website built for growth, with seamless E-commerce, optimized for Speed and SEO. If you want to increase conversions, improve workflows, or feel like your site no longer represents your brand our Web Development Team is here to help.
Your website should be your best salesperson and since most users make a judgement about your site in 0.5 seconds you may have lost the sale before your site has even finished loading.
Our team will build you a website that not only loads fast but makes the most valuable actions for your business as enticing as possible. Stop Losing Sales and Leads with a weak UI and an unclear customer Journey.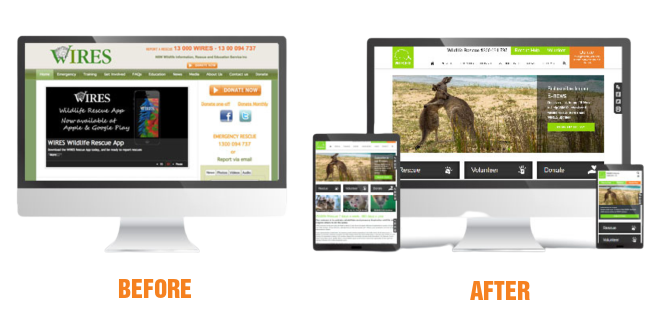 Reach out today for a free Discovery Session where we can show you how to start getting More Visitors, More Sales, More Often.
UI/UX
If you are experiencing low conversion rates or looking to improve them, you must identify the friction points on your site. There are several issues that may need to be addressed.
Whatever the goal, your website should be designed to make your most valuable actions as simple as possible for your customers to take. Don't give them CTA overload or frustrate them with bad navigation and page speeds. Instead:
Have a site so fast you'll make The Flash jealous with Clear Navigation, Efficient Checkout Processes, Focused Customer Journeys, Clear CTA's and Strong Landing Pages that convert.
"From the moment we started working with One Orange Cow, everything came together with ease. The Launch of our fully Responsive Site fills us with pride and most importantly we are already seeing significant improvement in our site Traffic and other metrics."
Browning Online Communication, WIRES
Get a better website! Click Below
Ongoing Support
As part of your digital strategy, your site will need to be constantly updated and upgraded, this includes adding new pages, blogposts, new products, or services, editing text, sending newsletters, and managing email campaigns. If you want to save yourself time and guarantee the best results our Support Team Can handle your requests. No need to worry about formatting, or building pages yourself, simply send us the content and we'll take care of the rest.
Looking for an Alternative to WordPress? Introducing OOC CMS! OOC CMS Fast Deployment, Peak Performance and Complete Control across all your Sites from One Simple Hub.
OOC CMS gives you complete control of your brand messaging and content across all your business locations. Make it easy to uphold your content standards and launch a peak performance site for a new location in minutes instead of weeks – Start dictating the pace of your growth instead of being subdued by technology that can't keep up.
Custom 3rd Party Integrations
Lower Storage Costs, Increase Productivity and gain Real-time visualisation of all your data. One Orange Cow provides Technical Solutions for businesses whose growth is being hindered by their current Digital Setup. If your software is not getting along or you are looking for a new solution, we are here to help you.
We are here to Help
We are obsessed with helping Businesses Grow, that's the basis of our More Visitors, More Sales, more Often Philosophy, Stop being held back by technical limitations and poor web Design. Reach Out Today!